5 Axis Aerospace Machining and Turning
With working envelopes approaching ø36"x20", Cutter is able to produce components using full-five axis tool paths. Impellers, aerospace components, and finish machining of 3D-printings requiring tight-tolerance geometry are all within the capabilities of our shop. Further, we use industry-recognized best in class workholding and tooling to ensure surface finishes, dimensions, and repeatability.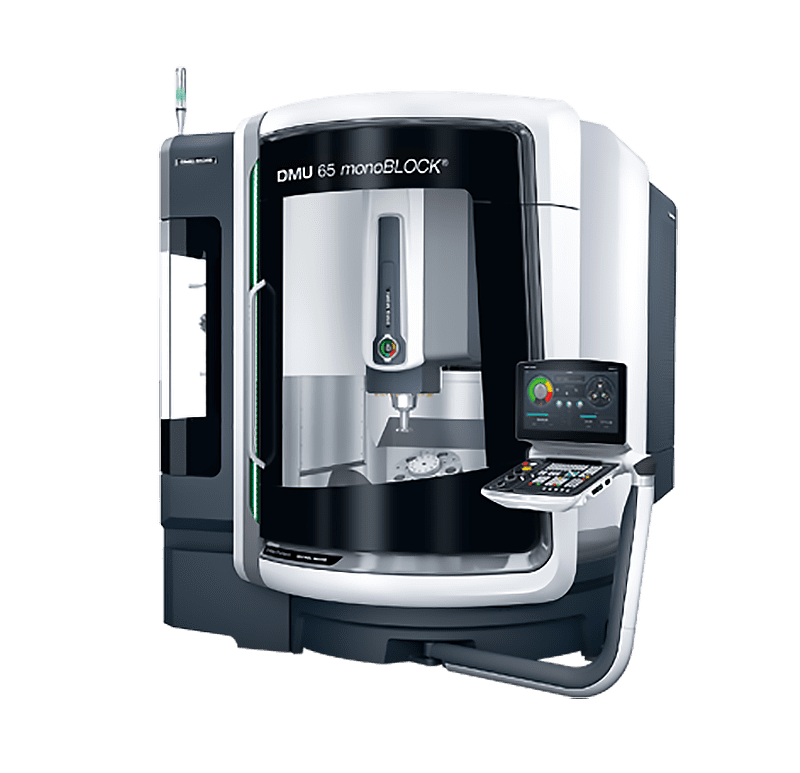 Premier 5 Axis Machining Services
With over two decades of industry experience, Cutter Innovations provide a dynamic suite of manufacturing and fabrication services, including 5 axis CNC machining. Our seasoned professionals serve a variety of industries by providing them with quality parts that are created in accordance with stringent AS9100 standards.
Our 5 axis CNC machining is by far one of our most versatile and sought-after services. This machining technique can be used to create high-performance components for prototyping purposes or to fulfill large production orders.
What Is 5 Axis CNC Machining?
As the name suggests, 5 axis CNC machining is performed across five axes. The movements of these machining tools are precisely guided with computer numerical control software. During the 5 axis machining process, the cutting tools remain perpendicular to the material being shaped.
Unlike traditional CNC machines, 5 axis equipment can move across two rotational axes and three linear axes.
These expanded capabilities allow our team to perform complex machining across the surface of the source material. 5 axis machining can be used to create precision products out of materials such as titanium, high purity aluminum, and stainless steel.
What Industries Does Cutter Innovations Serve?
Cutter Innovations prides itself on rising to the needs of our Clients. Our experienced team of engineers enjoys taking on tough projects and thinking outside of the box in order to create innovative products.
With that being said, we primarily work with Clients in the following sectors:
Aerospace
Our primary area of expertise is 5 axis aerospace machining. Aerospace components must be built using metals that are difficult to work with and must meet strict tolerances in order to yield desired performance.
Cutter Innovations has proven time and again that we are up to the challenge. Our team provides aerospace Clients with high-quality aircraft engine components and turbine blade parts. Additionally, we can use 5 axis machining to craft structural components for airplanes.
Cutter Innovation's 5 axis aerospace machining processes are ideal for working with lightweight aluminum, carbon-fiber composites, titanium, and alloys that are commonly used to produce airplane components.
In addition to large 5 axis machines, Cutter Innovations has auxiliary equipment commonly used in the aerospace sector. Examples include lathes, turn-mill machines, and precision grinders. Our comprehensive array of machinery allows us to create top-quality aerospace products entirely in-house.
Cutter Innovation not only possesses a full lineup of precision equipment but our team is extremely experienced in the use of 5 axis machining techniques. We also strictly adhere to AS9100 quality control standards to ensure the consistency, accuracy, and performance of our products.
When precision matters, Cutter Innovation is the clear partner for all of your 5 axis machining needs.
Medical
Although we primarily partner with Clients in the aerospace industry, companies that produce medical equipment also frequently turn to Cutter Innovations for 5 axis machining services.
Medical equipment manufacturers use many of the same difficult-to-work-with materials, including stainless steel, titanium, aluminum, and metal alloys. Our 5 axis machining process is the best choice for transforming these metals into precision medical equipment.
Cutter Innovations can efficiently fulfill large orders of precision medical equipment with our 5 axis machining services. In addition, we can use our 5 axis machining processes to create one-off prototypes in an efficient and cost-effective manner.
Prototyping is essential when developing medical equipment because it allows stakeholders, investors, engineers, and other relevant parties to gain a better understanding of the product's functionality.
Oil and Gas
In the oil and gas sector, durability and reliability are equally as important as performance. When integral components fail, operations cannot continue. This failure will cost our oil and gas Clients tens of thousands in lost revenue.
In order to help our valued Clients avoid this nightmare scenario, our 5 axis machining services are backed by industry-leading quality control measures.
We stringently follow AS9100 standards in order to maintain product quality, consistency, and durability. This practice has made us a preferred manufacturing partner for oil and gas companies seeking complex 5 axis machining solutions.
Additional Industries
Do you operate within an industry not listed above? Would you like to partner with an expert team of engineering and machining professionals in order to access 5 axis services?
Are you looking for a trusted 5 axis machining company that has the experience, passion, and industry connections to turn your concept into complex, functioning components?
If so, then Cutter Innovations would be glad to take on your project. In addition to working with the industries outlined above, we have the capabilities to meet the 5 axis machining needs of virtually any other sector.
Our 5 axis machining, wire EDM, and other manufacturing tools give us the flexibility to create complex custom components for your company. We frequently use 5 axis machining to transform difficult-to-work-with metals into precision parts that meet the stringent accuracy requirements of our Clients.
The 5 Axis Machining Process
At Cutter Innovations, we have several different 5 axis devices. These large 5 axis machining tools can accommodate oversized pieces of material, such as those used for aerospace applications.
When partnering with a new Client, one of our 5 axis engineering experts will gather vital details about your project, design needs, preferred materials, etc. Once they have collected this information, we will work to create your components in a manner that meets or exceeds your expectations and deadlines.
Our goal is to help you keep your project on pace and under budget by providing quality 5 axis machining and exceptional Customer service.
Cutter Innovations believes that communication is essential to the success of any partnership. As such, we will also keep you in the loop regarding the status of your 5 axis machined products, especially when fulfilling large orders.
Benefits of 5 Axis CNC Machines
5 axis CNC machines offer several distinct benefits over 3 axis CNC machines, including:
Single Setup
When creating complex products with 3 axis machines, the engineering team will have to set up the equipment several different times during the machining process. This repetition can increase the risk of errors such as incorrect alignments and drive up the cost of creating your products.
5 axis machining eliminates the need to perform multiple setups. Once the design is input into the CNC software and the material is put in place, the 5 axis equipment can complete the entire machining process. This approach reduces the risk of operator errors, expedites the machining process, saves time, and minimizes your costs.
Higher Cutting Speeds
Since 5 axis machines can maneuver across 5 different axes, the equipment can use shorter cutting tools to create your products. This ability means that the tools can cut at faster speeds without causing excess vibration or pressure.
Cutting tools that move at high speeds with minimal vibration are far less likely to create cavities, burrs, or other imperfections. The end result is a better quality surface.
Create Complex Parts
5 axis CNC machining makes it possible to create complex parts out of difficult-to-work-with source materials. Without 5 axis machining techniques, creating these parts would require casting, which is a costly and time-consuming endeavor.
Our 5 axis machining is especially beneficial if your company needs to produce a prototype or small run of components, as the project can often be completed in weeks, not months.
Hole Drilling Capabilities
If you are relying on 3 axis machining tools and need to drill holes in your parts, the manufacturing team would need to adjust the setup for every hole. As you might expect, adjusting the setup creates the same issues outlined above and can negatively impact the consistency between each hole.
5 axis machining techniques give Cutter Innovations the ability to drill multiple holes in your part with a single setup. With 5 axis machining, holes can be placed at compound angles with flawless precision. 5 axis machining eliminates inconsistencies in hole depth or placement.
Efficiency
Modern 5 axis machining equipment, such as that used by Cutter Innovations, maximizes the efficiency of creating high-performance parts.
Our experienced engineering team can use 5 axis machines to quickly produce complex parts or components for your project. In turn, this allows you to reduce the risk of project delays and minimize the cost of creating essential components.
Why Choose Cutter Innovations for 5 Axis Turning?
For years, Cutter Innovations has been known for unwavering commitment to our Clients and uncompromising quality standards. Every component that leaves our facility has been thoroughly examined to ensure that it meets AS9100 quality control standards and the Client's unique specifications.
When you receive 5 axis machined products from Cutter Innovations, you can rest assured that they will exhibit superior durability, fit, and finish.
We can not only deliver complex, quality 5 axis machined components, but we can also provide expert guidance to help you ensure the success of your project. If you would like to discuss the demands of your current project, Cutter Innovations can be reached online or via phone. You can email us directly or request a quote online.
Read More
Commited to High Quality Service
We love a challenge. Submit your toughest projects and we'll let you know how Cutter Innovations can tackle it.
Get a Quote!